"This post may contain affiliate links or sponsored content. I am disclosing this in accordance with the Federal Trade Commission's 16 CFR, Part 255: "Guides Concerning the Use of Endorsements and Testimonials in Advertising."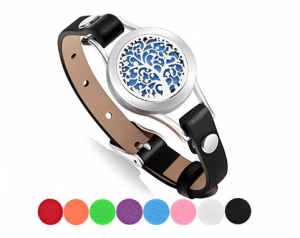 Essential Oil Diffuser Bracelet, Aromatherapy Bracelet Jewelry 316L Stainless Steel Locket Leather Band with 18pcs Washable Refill Pads
Current Price $14.99 / Discounted Price $10.49
Promo Code to use at Checkout: XH7KVJE2 you save 30%
Product prices and availability are accurate as of 09/06/2018
11:56 PM EST and are subject to change. Any price and availability information displayed on Amazon. com at the time of purchase will apply to the purchase of this product. Codes are valid at time/date stamp of post and can expire at any time.