"This post may contain affiliate links or sponsored content. I am disclosing this in accordance with the Federal Trade Commission's 16 CFR, Part 255: "Guides Concerning the Use of Endorsements and Testimonials in Advertising."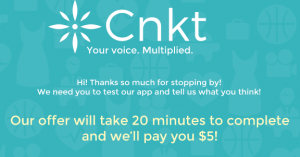 CNKT is looking for people to test their app. Follow their simple instructions and you will be $5 richer in your Paypal account.
I just finished it and was paid within 5 – 10 mins of sending in my required screenshots.
Step 1: Head on over to the CNKT website
Step 2: Send an email to cnktmarketing6@gmail.com include a link to your legitimate facebook profile. You will be connecting to this profile once you download the app. You will receive an email shortly with more instructions.
Step 3: Go download the CNKT app in either the Apple app store or Google Play store.
Step 4: Follow the directions set out for you in the email they send you. I won't cover this since I don't know if they have different people doing different tasks.
Once you have done everything your email tells you, send your screenshots back to them as a reply and clarify what PayPal email to use and you will get $5 shortly.