"This post may contain affiliate links or sponsored content. I am disclosing this in accordance with the Federal Trade Commission's 16 CFR, Part 255: "Guides Concerning the Use of Endorsements and Testimonials in Advertising."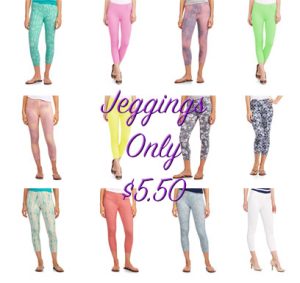 Walmart & Faded Glory do not appear to make these anymore, HOWEVER, I see this post gets a lot of traffic and thought I would help point you in a direction to shop for what you are looking for. If you visit Poshmark you very well might find someone selling a pair. Here is a great search that I did and resulted in many.
Walmart has these cute Faded Glory Women's Capri Length Knit Color Jeggings marked down to $5.50 ea. If you are into this current trend of leggings with cute patterns, these look like they will help fill that need 🙂
Sizes XS – XXL, some patterns are sold out at some sizes. These are on Clearance so don't expect them to return.