"This post may contain affiliate links or sponsored content. I am disclosing this in accordance with the Federal Trade Commission's 16 CFR, Part 255: "Guides Concerning the Use of Endorsements and Testimonials in Advertising."
Summertime is in full effect!! The kids are getting out of school, the parties are starting. So whether you have an outdoor event to attend, a pool party, going to the park with the kids or chilling on the beach Here are some fun ways to dress up your flip flops to look fabulous while you have fun. Dollar Tree has Flip Flops in all sorts of colors and only $1 each. 
You know with all the summer weddings, birthday parties, cookouts and tons of other fun these would look great.
1. Floral Bloom Flip Flops
Hot glue small faux flowers directly to the sandal straps. Alternate different colors and blooms, or use the same flower throughout for a cohesive look. These flip-flops are the perfect pop for outdoor summer garden parties, luau celebrations, and backyard BBQs!
2. Glamour Glitter Flip Flops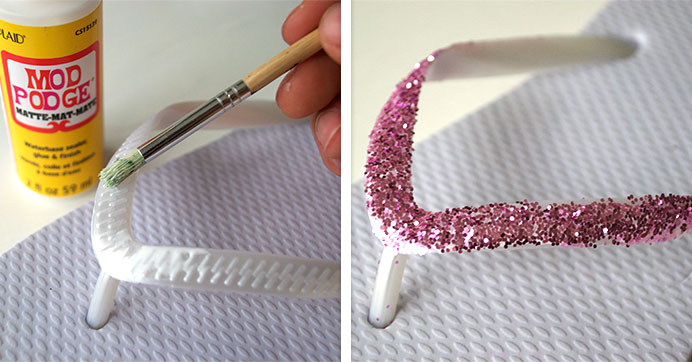 This would make for a perfect fun activity for a girls birthday party. Add subtle shimmer and sparkle to the sandal straps. Paint a thin layer of Mod Podge® or glue to the straps, and sprinkle on the sparkles. Use silver, gold, or colorful glitter. Dust off the excess and allow them to dry for at least one hour. Then add another layer of Mod Podge® to seal in the glitter, and let dry for another hour before wearing. Show off your shimmery shoes in the sun at your next pool party!
3. Beautiful Beaded Ribbon Flip Flops
Dress up your flip-flops with this elegant embellishment idea! Weave white sheer ribbon in a figure-eight pattern between each strap, securing it in place with hot glue as needed. Hot glue beads, crystals, craft pearls, or rhinestones on top of your ribbon in any pattern you'd like. This is the perfect fancy look for an outdoor summer wedding. Your friends and family will be so impressed with your creativity and style!
Grab all your supplies at Dollar Tree through the links spread through this post. Happy Summer!!