"This post may contain affiliate links or sponsored content. I am disclosing this in accordance with the Federal Trade Commission's 16 CFR, Part 255: "Guides Concerning the Use of Endorsements and Testimonials in Advertising."
So this week at Walgreens there's an amazing deal on Axe Spray and Degree MotionSense Deodorants. This deal does run from 8/8/2021-8/14/2021.
Here are the coupons you will need:
Also, make sure you have your Walgreens Booster (the one that gives you Walgreens Cash when you spend money) clipped. You may have a different one than me, but make sure you clip it! If you have the $5 when you Spend $20 it's going to be the best deal for you.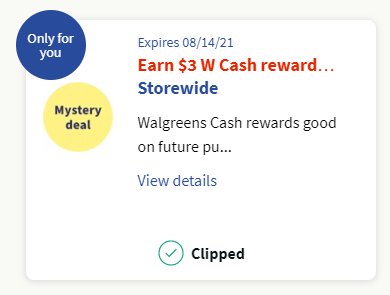 Now here's your scenario:
Buy 2 Degree MotionSense Deodorants $5.49 each
Buy 2 Axe Sprays $6.49 each
Use (1) Buy 1 Get 1 Free Degree Digital Coupon
Use (1) Buy 1 Get 1 Free Axe Digital Coupon
Pay $11.98 + tax
Receive $5.00 in Walgreens Cash when you spend $20 (or whatever your booster is)
Redeem the Degree and Axe Ibotta Offers to get an extra $4.00 Cash Back!
Total after Cash Back: $2.98 for 4 items!