"This post may contain affiliate links or sponsored content. I am disclosing this in accordance with the Federal Trade Commission's 16 CFR, Part 255: "Guides Concerning the Use of Endorsements and Testimonials in Advertising."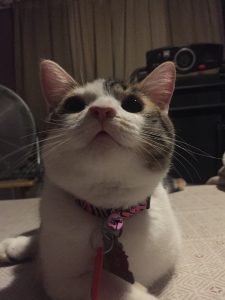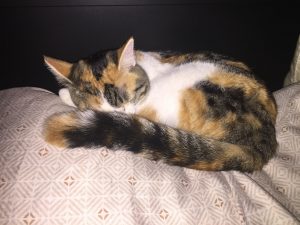 About 2 months ago my 13 yr old kitty Nala that I had raised since she was 5 weeks old got hit by a car and died almost immediately. I of course was and still am heartbroken over the loss of my old friend. After about a month though, I started realizing I had a kitty cat shaped heart in my hole. So we went on an adventure around town to all the pet stores that host rescues and shelters to see what was available. I saw tons of cute cats but none just spoke to me that I should take them home. All were over a year old, and we have 3 dogs. So I had to consider the fact as well if the cat would adjust to that.
After visiting like 5 places, I decided to visit animal control and fell in love with Miss Simba that you see here. She is around 9 months old now, we have had her about a month now. She is doing great with our dogs, and funny enough gets along with them better than my old girl Nala and has put all the dogs in their place LOL.
When we adopted her, she came with practically a booklet of treatments the animal control vet had done to her. She had been in animal control care for much of her very young life, was adopted out for 4 months only for her to be returned because the family didn't want to deal with an eye issue she has.
I noticed in her paperwork that she had been getting something called Capstar. Did some research and found out it was a flea medicine called nitenpyram. After a little more research I found out there is over the counter versions of this. And funny enough the 2 lb – 25 lb stuff covers cats and dogs. There is also a version for dogs over 25 lbs.
Now my point of telling you this whole story other than to show off my pretty kitty LOL. How we are hoping for a Flea Free Summer.
Here in Florida fleas run rampant. It is almost impossible to go the summer flea free. My mom's poor pooch has a flea allergy and usually no matter what we do, he itches and for the past few years has lived with a bald butt because of fleas. So when I saw that Miss Simba was coming to us Flea free and had been given this nitenpyram stuff, I had to look into it more and found out it kills adult fleas within 30 mins of giving the medicine to your pets. It can be given as often as daily until the flea infestation is gone.
SO we ordered enough to treat all 3 dogs and to continue treating Simba. We LITERALLY have not seen a flea on these animals since they have been taking it. We are not giving it to them daily either. Twice a week since we are going into spring, the fleas will be picking up quick.
We are just blown away by how well this works and without having to squeeze tiny tubes of smelly stuff on their backs.
I also found this Flea Away Natural Flea Repellant pills so I ordered some of them as well. They smell like beef or liver. They also can be given to dogs and cats. Our smallest dog funny enough takes it without hiding it. 2 of the dogs need it hidden in cheese. The cat we grind it up into a powder and given it to her in a can of food. 
I hope my research helps someone else have a Flea Free Summer as well 😀