"This post may contain affiliate links or sponsored content. I am disclosing this in accordance with the Federal Trade Commission's 16 CFR, Part 255: "Guides Concerning the Use of Endorsements and Testimonials in Advertising."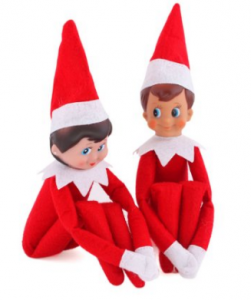 I know I know, bite my tongue for even bringing up the topic of Christmas. But this is a deal you do not want to miss if you have been wanting to get in on the Elf on the Shelf fun.
You can get TWO Elf on the Shelf dolls, a boy and a girl for only $7.49 shipped!! That is less than buying a box set with the one doll. And wait this gets better, I found an awesome deal on the book too!!
Now you can get the Elf on the Shelf book as low as $4.02 shipped, if you go into the See all buying options there is one there for $0.03 plus $3.99 shipping.
**Remember Amazon prices change super fast, so if you do not find this deal, the moment has passed.**