"This post may contain affiliate links or sponsored content. I am disclosing this in accordance with the Federal Trade Commission's 16 CFR, Part 255: "Guides Concerning the Use of Endorsements and Testimonials in Advertising."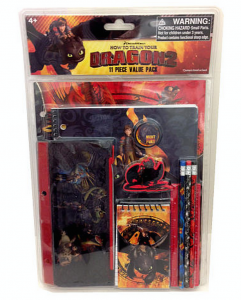 Oh wow oh wow, this adorable How to Train your Dragon 2 ~ 11 pc school set is an awesome find at $1.98!! Grab it now and have it for when the kiddos go back after Christmas break and need all new supplies again cause ya know they magically disappear over the 2 week break.
They seem to be possibly be available still locally in stores or ship to your home.