"This post may contain affiliate links or sponsored content. I am disclosing this in accordance with the Federal Trade Commission's 16 CFR, Part 255: "Guides Concerning the Use of Endorsements and Testimonials in Advertising."
Are you like me and obsessed with this reversible sequin fabric that has become so popular. It is so relaxing to me to play with the sequins. I was SO excited to see these prices on Amazon for some of the color schemes. The first one here I ADORE. I love mermaid colors.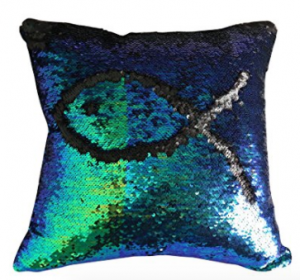 Grab this Blue & Green Mermaid one for
Get this Blue & Silver Pillow for
Get this Purple & Blue Pillow for 
Get this Pink & Silver Pillow for 
Get all of these with FREE 2 day shipping when you use your Prime subscription. If you have not subscribed yet, what are you waiting for!! They let you make monthly payments now (just click see more plans) and you get your first month for FREE.