"This post may contain affiliate links or sponsored content. I am disclosing this in accordance with the Federal Trade Commission's 16 CFR, Part 255: "Guides Concerning the Use of Endorsements and Testimonials in Advertising."
**I was compensated for this post. This post also contains affiliate links and I will be compensated if you make a purchase after clicking on my links.**
Memorial Day is right around the corner, and before you know it the 4th of July will also be here. So the time for get-togethers for cookouts and good times with family and friends will be here in no time.
I know I love to decorate for the occasion but the decorating shouldn't cost you a small fortune. Dollar Tree has great decorations for the patriotic holidays coming up and of course, they are all at their everyday price of only $1 each.
They are already putting these decorations out and you have to hit the stores fast otherwise they will be wiped out. If you don't want to chance that, Shop Patriotic Party Supplies at DollarTree.com and have them shipped to your local store for free.
Some of my favorites are the battery operated lights. They work forever and are so versatile. The decorative covers can actually come off and you can use them for other uses after the holiday.
Of course, you always need some flags to decorate the yard or let the kids wave around.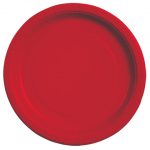 And no party is complete without paper plates for the ease of cleanup when it is time for everyone to go on home.
Visit DollarTree.com or your local store and stock up on your party supplies while they last.